Referring a case
A completed referral form, providing us with details of the dispute and of the parties, and a signed booking form all are that is needed to book in the case.
Prior to the mediation
The case manager will liaise with the referrer to organise the logistics, including timings, contact information, and online links (if required).
Joint meeting
Parties are invited to present their case in a short joint session, while also having the opportunity to ask any questions that they may have.
Shuttle mediation
The mediator will then spend the rest of the day shuttling between the parties, passing across offers, options, messages, and requests.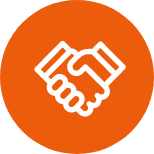 The agreement
The agreement is a joint plan of action decided upon by the participants. The mediator can write it up as a good faith agreement to give to both parties.

Feeding back
If there is a third-party referrer, UK Mediation will provide them with a Mediation Summary on the next working day (subject to parties' consent).

Follow-up
The case manager will follow up the situation after an agreed period by contacting the parties confidentially to see if the agreement is working.