Webinar Takeaways: 'Ensuring Workplace Wellbeing'
Posted on: February 27th, 2023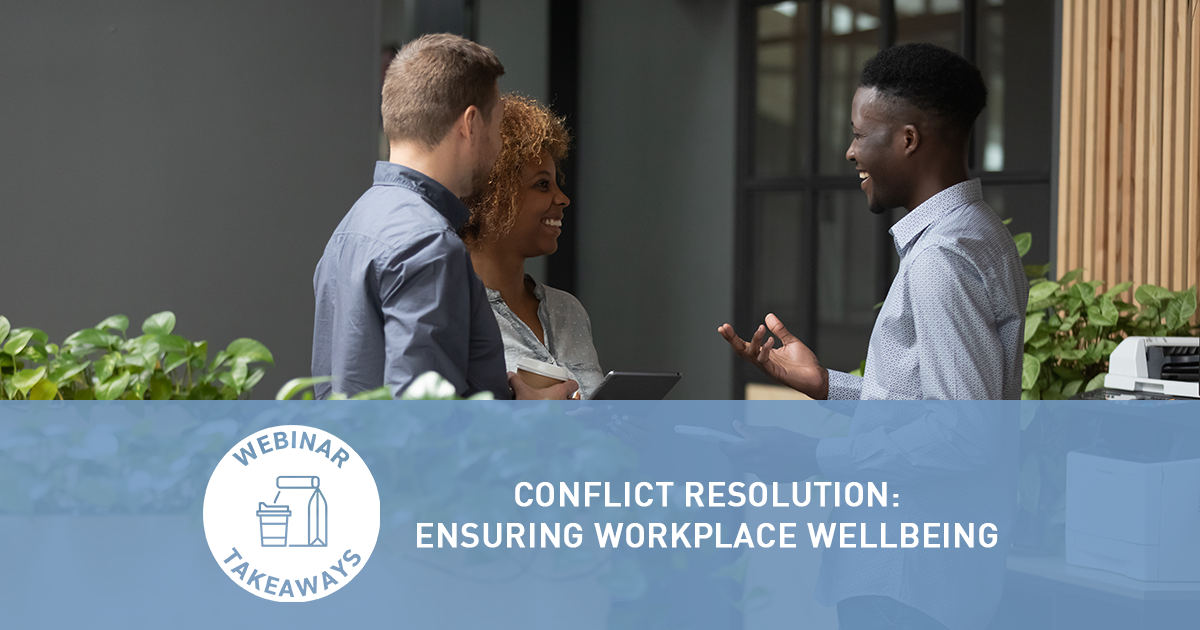 While we hope that people are able to join us live for our monthly webinars, we understand that people may have prior commitments and be unable to attend on the day. That's why we make all of our webinars available to watch on demand!
It's also why we've started a new series of blogs to serve as an accompaniment to the webinars. In these articles, we will round up the three main takeaways from that month's presentation, as selected by our CEO and chief webinar presenter, Dr Mike Talbot.
First up is 'Conflict Resolution: Ensuring Workplace Wellbeing', which was streamed live on Youtube last Friday.


1.       There is a reciprocal relationship between wellbeing and resolving conflict.

People who are 'unwell' through mental health challenges may find it more difficult to manage certain aspects of conflict, and can find that they are drawn into situations more frequently.

Also, having to face up to conflict, through processes like mediation or facilitated conversations, can have an impact on people's mental wellbeing.


2.       There is no one-size-fits-all approach with regards to how we treat people whose personal resources are depleted.

When resolving conflict involving people whose mental wellbeing is compromised, we need to be sensitive to individual needs, people's communication styles, and above all, avoiding making a situation worse.

This requires that the practitioner and/or manager adapt their approach and don't work off of a script or a standard 'template'.


3.       Mediators would do well to have an insight into the range of psychological disorders that clients may have.

The webinar explored a wide range of challenges that might impact on people who are drawn into conflict with others. Stress-related illness, depression, and more enduring mental health problems all need to be handled differently.
Some awareness on behalf of the mediator is needed for how these challenges might manifest in working relationships.